Mission Impossible Opening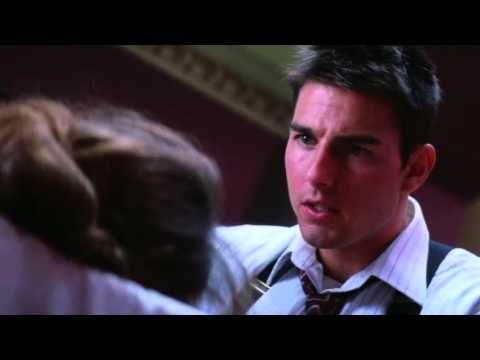 Most spy and action movies today include pre-title sequences, including James Bond, Mission: Impossible, and some Bourne films.
In Mission: Impossible the movie opens with the IMF team (Impossible Mission Force) trying to obtain the name of the contact in Minsk (Dimitri Miedev) from a Russian. We don't know at first who any of the people in the room are and no names are used. We don't know why they want the name. It is irrelevant as it has nothing to do with the rest of the plot. This scene really sets up the film for the television fans as it answers one of the concerns they would have: How much will this feel like the TV show? Two minutes into the scene, the guy who asked the questions and kills the Russian, walks over to the anteroom and REMOVES HIS MASK, revealing agent Ethan Hunt (Tom Cruise). Yes, the masks are there, the TV fans can feel at home.
One of the goals of the first Mission: Impossible film, had to be to show the TV show fans that the movie should feel that it is really based on the "Mission: Impossible" television show as they remember. The pre-title and title sequences meet this goal. If a viewer hadn't seen the TV show, it's not a big deal, but a few very important things come out of the first six minutes of the show that the TV fans expect to see. In future Mission: Impossible films, the pre-title sequences do set up the rest of the films.
The concept of masks as used here to disguise your real identity and present yourself as someone else really goes back to the movie, The List of Adrian Messenger where this concept is pioneered.  Of course, From Russia With Love in 1963 opens i the pre-title sequence with a Bond dying, only to reveal as the mask is pulled off, it was someone else.  Check out our podcast on this.
This scene does have a similarity to The Godfather: Part II.   In The Godfather: Part II, Senator Pat Geary wakes up next to a dead woman. He can't remember what happened "I don't know how it happened … I passed out". He had been set up and was framed. He hadn't really killed her.   In the Mission: Impossible pre-title sequence, the Russian has a similar situation.   There appears to be a dead woman and he is saying he doesn't know what happened. We got this information from this clip.
This pre-title sequence does set up one plot point in the film.   Jim Phelps is not on this mission. We find out later he was in Chicago at the Drake Hotel for a meeting.   This becomes important later and isn't highlighted in the pre-title sequence.