Restaurant Scene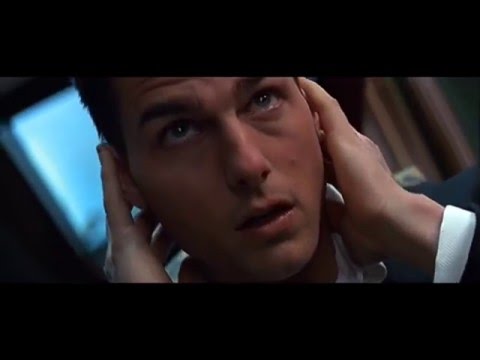 In the television series, it was common for IMF agents to turn to the other side and go bad.   The main plot of each show was generally to catch these turncoats. This definitely gets carried over into the movie.
In this scene, Ethan Hunt (Tom Cruise) meets with Kittridge (Henry Czerny) at the Akvárium restaurant after the failed mission. Kittridge lets Ethan Hunt know that the mission was really a decoy.   There was a suspicion that one of the agents had turned to the other side.   The mission really was a set-up with another IMF team monitoring Jim Phelps' team. Ethan Hunt called it a Mole Hunt.
The CIA had intercepted a message from someone named Max who wanted to buy the NOC List from the turned agent. Max called it Job 314.   Job 314 ended up being the attempted stealing of the NOC List in the first mission in the film.   Kittridge tells Ethan that he is the prime suspect with the words: "and like you said, you survived".  Ethan looks around the room and notices that the team working in the room were all at the party.  He realizes that there was a second IMF team involved.  Ethan freaks out and uses the only gadget he got from Jack Harmon to escape the restaurant.
The gadget Ethan uses is an explosive device that he throws onto a very large aquarium.   This is a very well-done scene ending with the aquarium exploding and the contents flood the area as Ethan escapes. There is a mix of reality and some CGI but it is handled well.
The use of exploding or crashing aquariums is not new. Examples of this can be found in many films that predate Mission: Impossible. In James Bond's Octopussy, around the 1:19:12, Bond disposes of the chainsaw henchman by crashing his head into a fish tank (This occurs about half-way through this Clip).  In License to Kill, a guard shoots fish tank (See Clip), Bond uses this to help get the upper-hand in this fight.  The films Lethal Weapon 2, Duece Bigalow: Male Gigalow, Total Recall, Push, Eraser, Jackie Chan's First Strike, and A Low-Down Dirty Shame all have scenes where aquariums are destroyed as part of the plot.
One interesting curiosity is that Mission: Impossible, Eraser and Jackie Chan's First Strike were all released in the same year (1996), making this a very bad year for aquariums.